[Photo via Aaron Lieber]
Name: Lakey Peterson
D.O.B. / Age: Sept. 30, 1994 / 18
Home Break: Rincon Point
Age Started Surfing: 11 years old
Nickname(s): Laker
Sponsors: Nike, Smith Optics, Channel Island Surf Boards
Krush: First of all, congratulations on your first full year on tour. You ended in a bang, winning the U.S. Open of Surfing at Huntington Beach in August. Tell me what it was like to win the U.S. Open. It must have been insane.
Lakey Peterson (LP): Yeah, insane is a great word to use. That event is the biggest surfing event in the world, and one of the biggest live sporting events in the world as well, as far as people on the beach. It's an event where everyone wants to prove themselves, there are so many people on the beach and so much press. And for us (the women's tour), it's the last stop of the year and everyone wants to end on a high note. Just to end my year like that, if I could ever have picked an event to win, like one event ever, that would have been it. It was a dream come true.
Krush: You said in a post-win interview that you just stayed calm and stuck with your game plan. How were you able to keep your nerves down at a packed Huntington?
LP: You know it's really hard. Nike, my sponsor, does the event. There are so many Nike events going on, and people from Nike. It's hard because I want to talk to those people and go to those events. The US Open was the first event that I blocked all that out and just focused 100% on my surfing and just realized that was the reason I was there, not to socialize. I'm there to surf. I just had a different level of intensity at the U.S. Open, and I wasn't going to celebrate until I got that trophy.
Krush: You finished the tour in 7th place, what have you been working on in the off-season to knock out some of your competitors?
LP: Having this downtime allows the girls to have time to work on our surfing and practice new things. I'm really focusing more on the progressive side of the sport. More aerials and reverses and things like that, which I've kind of done a little bit in the past. I guess I'm a little bit known for that, not to come off in a cocky way. I feel like I have a high expectation to do those kind of things and this year, being a rookie, I was hesitant to show that. I was kind of safety surfing a bit. I'm working on perfecting that side of my surfing, so next year I can start throwing some bigger stuff in heats. I'm trying to push the boundaries in a heat, not just when I'm free surfing.
Krush: You've been working on a full length documentary about your life and surfing called "Zero to 100 – The Lakey Peterson Story". Give our readers some insight into what this film is all about.
LP: Pretty much we are just starting to tell people about this movie. It's basically a documentary on my life and me, based around my surfing. But it's going to go deeper than that. It's not just going to show my surfing. It's not just another surf film. It's showing tons of different interviews of people in my life, and a lot of struggles I've had to overcome. Just the ups and downs of being an athlete and what that takes. There's gonna be some home videos and stuff from when I was really young, playing different sports and stuff. And I've had a filmer, Aaron Lieber, with me this whole year, documenting my rookie year. Filming every contest, me surfing and all that kind of stuff. We're really excited about it. It's telling my story, you're going to get to see a lot more of me and who Lakey Peterson is. Our motto is, it's going to make you laugh, cry and do push-ups by the end. Haha!
Krush: What's your favorite scene that you know is going to be in this film?
LP: A couple things come to mind. We had this really amazing experience this year, in New Zealand. We had an extra day and we went on this helicopter ride to this huge waterfall in the middle of nowhere. You can only get there by helicopter, so no one was there. It was really dramatic.
Krush: You're something of a philanthropist, even at the age of 18. Tell me about the organizations you're working with and what they mean to you.
LP: I work with a few different organizations. One is the SCA (Student Conservation Association) and I've worked with them for a little while now. Pretty much what they do is help clean up national parks, forests and beaches. And they get college kids to sign up for the program. And every day the kids go and start rebuilding our environment. I really like it because what I do depends on the environment and taking care of it is a really important thing to do.
And then the other one is Hands 4 Others or H4O and they install clean water systems in areas of the world that don't have clean water or any water at all. And that's been a really amazing experience; right after the U.S. Open I went on a mission's trip with them. Actually it was like a surf / missions trip – the first couple of days I was doing mission work and then I had a surf trip after, in the same spot. Haha. H4O put in these clean water systems, which take the water the villagers are drinking and it takes it and runs it through this machine and it purifies the water and it comes out clean, just like a faucet. And it's really crazy because you look at some of the water these people were drinking and that's half the reason why they are so sick. I wouldn't want to stick my hand in the water they were drinking. So, to see these people get clean water for the first time, and they will have that for the rest of their life is really, really cool!
I'm also working with singer/songwriter Haddon Cord on a project called The Clean Water Tour, which is a music & film festival kicking off in Spring 2013. Should be really cool but it's still in the development stage right now. But, a portion of the proceeds from each concert will benefit a water charity.
Oh, and I'm also on the advisory board for The Ocean Lovers Collective, with awesome people like Jean Michel Cousteau, whose goal is to raise funds to improve ocean access and health through sustainable efforts.
Krush: Channel Island Surfboard by Al Merrick shapes all of your boards; do you have a lot of input into what goes into the equipment you're on?
LP: I've been using Al Merrick boards my whole life, they are actually based out of Santa Barbara. So it just made sense. Plus, I think they are the best surfboards in the world. As far as me putting input into my boards or if I want to change something, yes, I'm very involved in that. I've actually shaped a few boards myself. But they didn't turn out so well. Haha. If I try a new board or something and I feel something that's working, then I can bring it back in and talk with the shaper and say "hey, what did you do here, what did you do different?".
Krush: Anything cooking in the C.I. workshop that you've been developing and testing for the upcoming season?
LP: Yeah, actually, the board I rode in the US Open. It's not a model yet, and it probably won't be for quite a while, but when it comes out I'm really excited to show people about it. Because, it's been a board that's worked really well for me and it's really fun and fast. But yeah, I don't know how much I'm allowed to talk about it. Haha! But I'm excited for everyone to see that.
Krush: Is the board that you're not allowed to talk about going to be the "Lakey Peterson?"
LP: I think so! I've been working on it, so I really hope so! I love it, and I surf good on it, so they (Channel Islands) were thinking it might be a good fit for that so yeah, we will see.
Krush: (Signature Question) Krush's slogan is "lead the crowd." How do you think you are leading the women's surfing crowd?
LP: I don't know if I'm leading the women's surfing crowd, but right now women's surfing is better than it's ever been before as far as the progression of it. And what women are doing, and it's really fun to be a part of that, to see where it can go.
Krush: Boosting or barrels?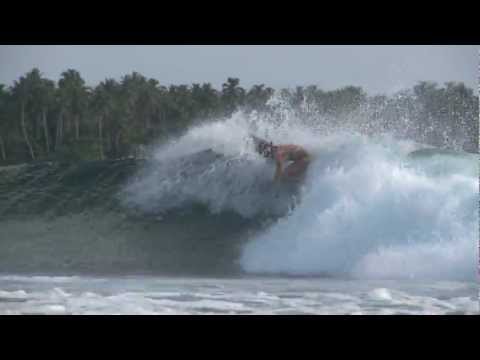 LP: Ohhh. Both. There is no better feeling than getting barreled but then airs are just so much fun!
Krush: (Signature Question) If you could have any super power what would it be, and what would be the first thing you did with that new 'power?'
LP: I would be able to teleport, so I could teleport to a perfect wave. Like, into a barrel.
Krush: (Signature Question) What (to this point) has been your most "Krushable" (epic) moment?
LP: I think, winning the US Open. Getting carried up the beach, just right in the moment. Being in front of like 650,000 people. There is no better "Krush" moment that I can think of.
Krush: You're making a strong bid for Surfer Polls this year. What are the Surfer Polls? What would it mean to cap off the year with a Surfer Poll, and where and how can we all vote?
LP: I guess the best way to describe it is, it's the closest thing surfing has to the Academy Awards, pretty much. People go and vote on who they think are the top surfers in the world right now. It's cool because it's not competition based. You can vote for people you think are amazing surfers and aren't even in contests. It's cool to see what the general public thinks and who they respect as surfers. Plus it's fun because everyone gets dressed up; we're not all in bikinis and boardshorts. It's just a fun night for us surfers and the surfing community. If you'd like to vote, you can go to surfermagazine.com or surferpoll.com and you can cast your vote for me. If you have Twitter you can just tag me, @LakeyPeterson, and then #SurferPollVote or if you have Instagram you can post a photo of me, at me (@LakeyPeterson) and #SurferPollVote. So there are a few ways to vote. And I would really appreciate if I got your guys vote and hopefully I can win!
Krush: Krush family, make sure to go over to SurferPoll.com and vote for our girl Lakey. Also check out her website and Facebook page to stay up to date on all of Lakey's wild adventures.
Got a question for Lakey? Post it in the comments below and we'll do our best to get it answered for you.